The Kincaid Karacter Company- 5 Decades of Mascot Milestones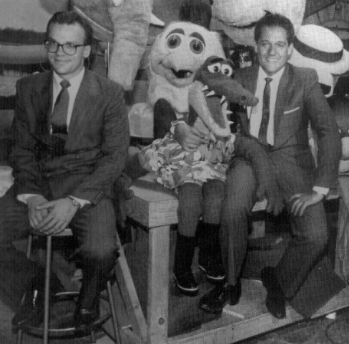 The Original "Kincaid Karacters"-
Bill
(L) and
Doug Kincaid

1970's

* October 12, 1977- Inspired by the release of
"Star Wars"
ea
rlier that year, brothers B
ill
and Doug Kincaid turn a basement hobby into a thriving part-time business, designing and
selling Sc
i
-Fi themed masks, models, and gadgets. The new business is called "Kincaid Studios".

* July, 1978- Doug begins working for Six Flags St. Louis as a costumed character performer, introducing both
brothers to the mascot industry.

*
1979
- Bill and Doug design & build their first two mascots, which they name
"Harvi Hippo & Grouchie Gator", and begin performing/making appearances around St. Louis with these characters, which brings them not only invaluable mascot experience but also local publicity & interest in their products and services. A stylized drawing of Harvi Hippo & Grouchie Gator will eventually be incorporated into the company logo.

1980's

*1980 to 1982- CBS affiliate KMOX-TV approaches Bill and Doug to produce puppets & props for their Saturday morning kids quiz show, "D.B.s Delight"; Bill designs & fabricates the puppet star of the show, "D.B. Doorbell", and Doug becomes the character's on-air puppeteer. This initial involvement will lead to a mutually beneficial 19 year association between KMOX (later KMOV) and The Kincaid Karacter Company, including several

Emmy Awards

for Doug. In early 1982, having
outgrown their basement workshop, Bill and Doug lease a small office/workshop space and hire their first employees.

* 1983 to 1985- Having diversified by this time into building mascots, puppets, props for television c
ommercials, and performing live locally and for children's television, the name of the business is changed to "Bill and Doug Kincaid & Co. Entertainment Services". In early Spring, 1983, The Armour Foods Corporation places an order for 33 hot dog mascots to appear at their events around the world, including daily appearances in all the Six Flags Theme Parks, and so for the first time Kincaid Karacter Mascots will become known to a global audience. The company expands again when "Kincaid & Co,". a 2700 sq. ft. retail center that houses both the Kincaid Mascot Shop and an ongoing children's theater- and features public tours of both- opens in October, 1985.

* 1986 to 1989- Having designed and built the world famous "BUDMAN" mascots for Anheuser-Busch since 1984, in 1987 the company- now known as "The Kincaid Entertainment Corporation" - is contracted by Anheuser-Busch to produce a mascot version of a party animal named "Spuds Mackenzie". By
1989
"Spuds Mania"
has run its course, but not before The Kincaid Company had produced
over 1500 Spuds Mackenzie mascot costumes in just a little over 18 months. That's a lot of white fur!


In between making
"Spuds"
dog mascots- which seems to be ALL the time in the late 1980's- The Kincaid Company creates
"SPUDS"
of a different kind- four guitar playing potatoes that will be seen by an audience of millions singing alongside
Weird Al Yankovich on M-TV's New Years Eve Show
on
December 31, 1987
. Late in 1988, original Kincaid Karacter "Grouchie Gator" begins starring in his own children's television show-
"Gator Tales"
-
on V
iacom's KMOV-TV.
Premiering in
December, 1988
,
with Doug Kincaid again assuming the role of lead puppeteer- and featuring a seeming endless variety of
Kincaid Karacter
puppets & mascots-
"Gator Tales"
runs for 11 years
and garners
several Emmy Awards.
Before the
1980's
come to a close, The Kincaid Company establishes long-term relationships with- and builds high quality mascots for- many of the world's leading Fortune 500 companies, sports teams, universities, and non-profit organizations, including
Monsanto
,
McDonnell-Douglas
,
United Van Lines, Little Caesar's Pizza, M-TV, Rug Doctor
,
The St. Louis Cardinals
,
Saint Louis University, Auburn University, KFC, Wendy's, The US Postal Service, Hostess, Marriot Hotels, Hallmark Cards, Blue Cross/Blue Shield, Icee Corporation, Post Brand Cereals, The March of Dimes, and The 7-UP Company
.

1990's
*
1990 to 1993
-
In the Spring of
1990
,
The Kincaid Entertainment Corporation
officially shortens its name to
The Kincaid Company
and relocates its office & mascot production facility to
Orlando, Florida
. With the world's greatest theme parks literally right next door and an abundance of local, highly skilled production talent available, Orlando proves to be an unparalleled laboratory & testing ground for new cutting edge mascot technologies and manufacturing techniques. Soon after arriving in Florida,
The Kincaid Company welcomes
The
Home Depot
, and
Universal Studios
Florida
as major mascot clients
; the latter two, with their day to day, year round operations, allows The Kincaid Company an unprecedented opportunity to research and improve on a daily basis not only how mascots are made but how they're used & maintained as well, with the areas of mascot performance & safety receiving special attention. Missing its convenient "middle of the country" location, The Kincaid Company will eventually re-locate its main operations
back to
St. Louis in the Fall of 1993
, and the Orlando shop will eventually be phased out completely by the Spring of
1995
, but the mascot industry knowledge and experience gained in Florida prove to be invaluable in the years to come.
* 1994 to 1995-
Soon after arriving back in St. Louis, The Kincaid Company is contracted to build for
Discover Card
a team of 34 highly unique & specialized Kincaid Karacter mascots for
"The Manhatten Dine-Out"
, an $8,000,000 mascot promotion/event
held for two consecutive years on the streets of
New York City
.
Culminating in a grand festival in New York's Central Park in
1994
and
1995
and seen by hundreds of thousands,
"The Manhatten Dine-Out"
was- and remains-
the largest and most elaborate mascot event in NYC's history
.
Also
in 1994
, The Kincaid Company begins presenting
"The Secrets of Successful Character
"
mascot seminars all over the U.S.,
helping & teaching established clients and newcomers alike the art of mascot safety, maintenance, and performance techniques, being one of the very first companies in the mascot industry to do this.
* 1996 to 1999-
On
October 12, 1997
, The Kincaid Company celebrates 20 years
of
"Making Mascots…Making Memories
"
, and
Cartoon Network
joins the Kincaid Karacter Mascot Family that same year with The Kincaid Company's creation of the
"
Zoltar"
and
"
Moltar"
mascots for
Cartoon Networks's
:"
Space Ghost World Tour"
.
In the
Spring of
1999
,

"
The Kincaid Karacter Café"
,
a mascot themed family entertainment restaurant, opens on Historic Main Street in St Charles, MO.
2000's
2000
-
At the dawn of the new millennium, the Kincaid Company is renamed
"The Kincaid Karacter Company"
in honor of it's mascot roots..and to assure our clients of our ongoing commitment to
"
building great
karacter!
"
In 2005,
"Kincaid Creative Services"
-
a sister company specializing in props, displays, special effects, and 3-D Environments, is begun.
2006 to 2007-
The Kincaid Karacter Company welcomes many new mascot clients at the start of the
21st century

,
thanks to a solid reputation, innovative products, a focus on great customer service, and the ever expanding power of the Internet.
These include
Shoe Carnival
,
The United States Federal Reserve
, and the
FX Network
.
2008 to 2012
-

In

2008
, The Kincaid Karacter Company designs & builds 13 (!) creepy, fully animated character mascots for
"
The Theatre of the Dead
"
,
a major Haunted Attraction, thus establishing itself as a
major supplier
to the rapidly expanding haunted attraction industry.
In 2011,
The Kincaid Karacter Company is contracted by
Cardinal Glennon Children's Foundation
to create the mascot version of the world famous
"Rally Squirrel"
, hero of the legendary
2011
World Series
.
In
2012
, after two years of R&D, The Kincaid Karacter Company introduces two innovative new mascot products-
"Kincaid Karacter Cases"
and
"A-F Figures"
,
designed to enable mascot owners to maximize the promotional potential of their characters.

2013 to 2017
- Although always concerned with mascot safety, during this time The Kincaid Karacter Company devoted intense focus and effort towards this important topic, developing & implementing a series of innovative programs aimed towards making the mascot experience safer, more productive, and more fun for everyone. Through a combination of regular mascot safety inspections, better communications between mascot client & mascot vendor, and improved mascot training through a series of seminars and in-the-field training, The Kincaid Karacter Company's ongoing goal is to raise and maintain the safety standards of the mascot industry for the benefit of all concerned- mascot owners, mascot performers, and the general public.
2017 to 2019-
The Kincaid Karacter Company relocates to Atlanta, GA, to be closer to the burgeoning film and television industry of
"Hollywood of the South".

2020-
The Kincaid Karacter Company expands yet again with the opening of
"The Kincaid Karacter Studios",
a multifaceted production studio just north of Atlanta featuring not only mascot related production & classes but also facilities catering to film & television production.
Today-
Now celebrating 43 years of
"Making Mascots…Making Memories"
,
The Kincaid Karacter Company
extends our warmest thanks to our wonderful clients all over the world for making possible five
decades of "Making Mascots..,Making Memories.".


And the best is yet to come!
__________________________

Client Letters & Comments
(please scroll-down)