Kincaid Karacter Mascot Cleaning Service
Having your mascot costume cleaned on a regular basis can be a hassle sometimes, but it's so important...

Thorough, regular cleaning does more than improve your mascot's appearance; it prolongs the life of your costume, and maximizes your mascot investment. Even better, it improves the morale and enthusiasm of your mascot performers and provides them with a hygienically safe working environment (more important than ever in this era of increased attention to workplace health and safety standards). Yes, everybody wants their "character" to be clean- and the good news is, mascot cleaning doesn't have to be challenging or difficult. Now it's easier than ever!



With our Kincaid Karacter Basic Mascot Cleaning Service, we'll have your mascot costume picked up at your door, professionally clean him head to toe within seven (7) working days** from the time of his arrival at our facility, and he'll return back to your door fresh, disinfected, and smelling like new. No more hassles- and no more lugging huge, smelly boxes all around town, or- worse yet- to your home.
All you have to to is put him in a box and send us an email... we'll do the rest, offering you the convenience of fast, thorough, economical professional mascot cleaning- performed by a professional mascot company with over 35 years of experience in the industry. Once your mascot arrives at our door (2 days or less to our centrally located facility from most locations in the United States, depending on your location), he'll receive first class treatment including:

* A complete mascot "check-up" upon arrival, and the completion of a itemized "Check-Up Sheet", forwarded/emailed to you immediately, outlining the overall condition of the costume, including thorough recommendations for cleaning and detailed suggestions for repair/refurbishment/replacement of worn/damaged/missing costume parts.

* Thorough steam cleaning/hand washing of his head with our special equipment, and thorough cleaning/disinfectant treatment of all inside surfaces
* Special delicate hand cleaning of plastic surfaces such as eyes and noses
* Complete and thorough washing/cleaning/disinfectant treatment of all body parts and accessories, which are then carefully air/heat dried with our special process
* Careful hand washing and drying of any delicate parts
* Thorough brushing of all fur areas
* Careful re-packing and prompt shipment back to you

To arrange a cleaning for your mascot, please click on our store link below or contact us via phone or email.

ebay.com/str/themascotstore
__________________________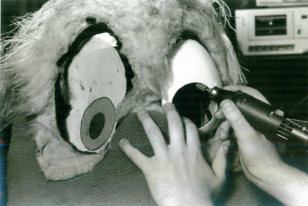 Kincaid Karacter Mascot Refurbishment Services
Make an old mascot look new… or a new mascot look even better
Y
our mascot's appearance- whether it be good or bad- will have a lasting effect on the public's perception of you and your organization, so you always want him to look his very best…and we're dedicated to helping you do just that.
Clients are encouraged to monitor the appearance of their mascot costumes closely on a regular basis to determine at what point a mascot costume part or parts must be Refurbished, Rebuilt, or Replaced, as defined in the following paragraphs. As a vendor dedicated to providing you with the best possible service, we can (and will!) offer our opinion(s) as to which things look good on your mascot and which things need a serious make-over, but only you can make that final decision.


Refurbishment-
This is defined as the general repair/touching up of the costume, working with the existing costume parts and accessories, and primarily involving re-stitching, re-gluing, re-painting, and re-soldering. Refurbishment does not include cleaning, rebuilding, or replacement of costume parts, as these are handled as separate mascot maintenance issues.

Our standard mascot refurbishment procedure includes:
1) Re-gluing foam and plastic head structures as needed.
2) Repairing, regluing, cleaning, and painting eyes.
3) Re-stitching any broken seams and patching torn areas.
4) Checking, cleaning, and re-stitching zippers and Velcro areas.
5) Checking and repairing animation mechanisms and ventilations systems/fans.
6) Repairing/regluing shoe soles and repainting/touching up any painted areas.
Rebuilding-
this is defined as the reconditioning of a particular mascot part using a mix of existing materials already found on the costume combined with new parts and materials that we provide. (Example- if a client has a mascot hat that is in good general condition with the exception of the logo on the hat, which is torn and faded, it is more economical for the client to have the hat rebuilt (using the existing hat & a new logo section), rather than have an entire replacement hat made).
Replacement-
t
his is defined as the creation/addition of an entirely new duplicate costume part to replace one that is completely worn out, severely damaged, lost or stolen. (Example- replacing a broken zipper or creating an entirely new pair of hands or feet for a mascot to replace old ones that have completely worn out).

Remember, as stated earlier, your mascot's appearance- whether it be good or bad- will have a lasting effect on the public's perception of you and your organization, so you always want him to look his very best.
To schedule refurbishment services for your mascot, please contact us via phone or email.