Kincaid Karacter
Training & Consultation Services
Only a knowledgeable, well trained musician can bring out the best music from a Stradivarius violin, and the same concept applies to a mascot costume- only a well-trained performer, thoroughly familiar with your costume inside and out- and how to wear and perform in it safely and effectively- will bring out the full potential of your mascot, regardless of how expensive or well-made the costume is.
Don't cancel out the promotional magic of your mascot costume investment with a sub-standard performance by a poorly trained performer. And, more importantly, don't expose yourself or your organization to needless legal liability- from either your performer or the public- by allowing an inadequately trained and prepared person to wear your mascot costume. With work related legal and liability issues of all kinds- especially lawsuits- at an all-time high, it just makes sense to cover all the bases. Remember that your mascot is much more than just a costume- he or she is a complex work related business tool, and it just makes good business sense to insure that those that use your mascot do so safely and professionally, as they would when using any other specialized piece of equipment.



In most cases, local, state, and federal work related agencies such as
OSHA
requires that businesses and organizations provide proper,
on the
job training for all employees
, regardless of their position. Properly organized and executed mascot training- stressing
proper procedures and safety
- is an absolute necessity if you wish to operate and maintain the best possible mascot program.
At The Kincaid Karacter Company, we're dedicated you keeping your mascot performers- and you- safe & well informed in all aspects of mascot performance and operation, and protected from the liability issues that can result from poor (or non-existent) training. We offer a wide variety of mascot training program options- from mascot safety & training manuals to one-on-one, single day consultation and training to multiple day group mascot training & seminars, as well as professional consultation on mascot marketing & promotions as well.
For more information, please contact us and we'll be happy to provide you with a program that's right for you.
__________________________

Kincaid Karacter Mascot Storage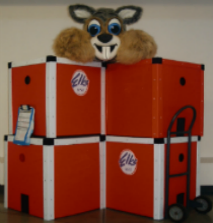 At last- your hassle-free, "turn-key" answer to maintaining a successful mascot program! We assume the responsibilities of mascot maintenance… while you enjoy the benefits of mascot ownership.
Using your mascot can be great fun…but storing him, cleaning him, fixing him, shipping him, etc., can be a great burden, especially if you're an already busy promotions or marketing manager with not enough hours in the day. Let us help you! Our
Kincaid Karacter Mascot Storage Program
is a full service package that takes the hassle out of mascot ownership…and puts the fun back in.
Features of our Storage Program
1. Safe, Secure, Around the Clock Care & Service
Your mascot will be stored on our premises, in a clean, safe temperature controlled environment. Each month, your mascot will be carefully inspected & cleaned and a
"Kincaid Karacter Check-Up Sheet"
will be completed and forwarded to you, advising as to the general condition of your mascot, with suggestions for repair, refurbishment & parts replacement as needed, as well as general usage recommendations. Does your mascot need a quick repair or touching up for an important appearance? No worries...we'll take care of it for you.
In addition, each time you schedule your mascot for shipment/delivery, we perform a
"Pre-Ship Inspection"
of your mascot, insuring that he is in "tip-top" shape before he is sent to his desired location. Finally, upon your mascot's return we will perform an automatic
"Post-Ship Inspection"
; this includes a detailed check list of your mascot's cleanliness, parts/accessories and overall condition.
2. Your mascot will be shipped per your requirements… and local Atlanta clients receive FREE delivery/pick-up
Getting your mascot where he needs to be- when he needs to be there- has never been this easy. We provide prompt & professional shipping to your desired location using the carrier of your choice- just send us a "ship to" and "ship from" label via email, or the courier of your choice can pick your mascot up right at our door. And if you are a Atlanta Area client, you'll receive one
free
delivery/pick-up
once a month to any location in town! (we offer additional Atlanta area deliveries & pick-ups at a nominal charge).
3. You can relax- because your mascot is always fully protected with us
While vacationing at our facility and when traveling to your destination, your mascot is fully insured by us against fire, theft, and water damage.
The Kincaid Karacter Mascot Storage Program- dedicated to making your mascot better…and your life easier.
To arrange for Kincaid Karacter Mascot Storage, please contact us via phone or email.