How to Order & Receive your Kincaid Karacter Mascot
The process of having your new Kincaid Karacter Mascot conceived & built can seem, at first glance, like a daunting task, but
we've
made it as easy as 1-2-3! And remember that throughout the entire process, we'll work side-by-side with you and/or your design/marketing/promotions staff to insure that your expectations are met & exceeded.
If you're pressed for time at the moment, no problem- for your convenience, w
e've
presented the 1-2-3 mascot ordering process in two ways:

1. A quick
"Express Overview"
(highlighted in blue) that will take you less than 30 seconds to read & absorb;

2. A more detailed "Comprehensive Overview" (highlighted in red) that takes a longer time to read but provides you with a much more detailed overview of the entire mascot ordering, production, and receiving process.





Before we start with either, however, it's worth noting that, for a variety of different reasons, in the custom mascot business (or any business, for that matter, where a custom product is made to a client's specifications) it's always better & easier for everybody if we can get together with you in person to discuss your mascot project, at least during the initial design & planning stage. Obviously, this is not always practical, but if we see you in person we can bring samples of materials for you to touch & hold, demonstrate how our product features will work for you, give you the opportunity to try things on, provide immediate answers to your questions, etc. We'd love to come see you, love to have you come visit us, or maybe we can both meet halfway somewhere if we're out traveling the country at the same time. Of course, meeting in person is not a necessity, and we'll still build you an awesome mascot regardless, but if there's a way to make it happen, let's get together.

How to Order Your Mascot- Express Overview


STEP 1- Conceiving, Designing, Rendering, & Price Quoting
A. Present us with your design..or have us create a design for you
B. Discuss, finalize, and approve your favorite mascot rendering design
C. Receive our quote for this design, then choose a KK Mascot Style & Price
D. Approve material samples, make financial arrangements with our office


STEP 2- Mascot Construction Phase
A. Patterning/Templating & Materials Inventory/Procurement (us).
B. Parts Fabrication (us), Receive Production progress Report (you).
C. Parts Assembly & Fine Tuning of Your Mascot (us).


STEP 3-Delivery, Adjustments, & Post Production Support

A. Receive your completed mascot

B. Read and complete all accompanying paperwork

C. Inspect & practice with your mascot prior to any public appearances

D. Note any adjustments/alterations needed and forward these notes to us


E. Register with us to receive mascot product/service notifications upgrades
How to Order Your Mascot- Comprehensive Overview



STEP 1- Conceiving, Designing, Rendering, & Price Quoting


With any successful project- whether it be the world's tallest building, the world's largest airplane, or the world's best mascot, thoughtful and careful planning & design- with equal input and good communication between the builder & the client- is a must. Let's work together as a team!


During this initial phase, you have lots of options available. If you already have an existing mascot, you can send us photos and measurements (or even the whole costume) and we can work from that. If you already have a mascot design- perhaps he's part of your company logo- you can send along JPEG or Illustrator files along with your color preferences (PMS numbers are good, or you can just send us samples of colors that you like- or web links to colors you prefer, etc).


If you're starting from scratch and have no existing mascot costume (or mascot in logo form), and have no idea what type of mascot you want, no problem- we'll help you design the perfect one. Our mascot design archive contains thousands of concept sketches which are at your disposal- absolutely free.If you tell us what type of mascot you have in mind (animal, human, object, etc.,), we can email you samples of these concept sketches to help fire up your creative engine; if you haven't decided what type of mascot works best for your organization, we are happy to meet with you, chat with you, email with you, etc., to do a little brainstorming together and come up with something awesome.


While you're thinking about the design of your mascot, it's a good idea to ask yourself the following questions as well- the answers to these questions will greatly affect not only how your mascot will be constructed but also such things as his size, type of materials used, etc. Having these questions answered before you enter into the design phase- and communicating those answers to us!- will result in a mascot that meets your needs perfectly and will be much more enjoyable and easy to use in the years to come.

Questions to consider when thinking about acquiring a mascot for you or your organization:
1. What is the main purpose of my mascot?
Is he an ambassador representing your company or school? Promoting a specific message for your organization such as recycling? Or does he represent a specific product or service your company manufactures/sells?
2. How do I want to "brand" him with my company/organization's color's, logo, etc., so people will be able to easily identify him with me?
How can you best incorporate your organization's colors & logo on the mascot so that the public will quickly & easily identify him with you? Should he wear a hat with the logo? Should the logo be on his shirt...or just on a nametag?


3. Where will I primarily be using him?
Indoors or out? And in what type of climate? If you will be using him primarily outdoors in Texas during the Summer, you probably don't want him to be a grizzly bear with thick, 4" fur. And if you are using him primarily on the streets of New York City…or outdoors on a muddy football field…you probably won't want him dressed in a solid white outfit & shoes, for obvious reasons.
4. How will I be using him?
He is just going to hug folks & shake hands- or do you need him to be able to hand out things like brochures? (This affects the size of the hands). If he is used primarily in a restaurant walking between tables, you probably don't want him to be too huge and bulky..and have a huge tail that can knock glasses over. If you're using him primarily in dark bars, taverns, & nightclubs, you'll want his eyes to be as big as possible to see better. If he will be used primarily in a stadium setting, running up & down small steps in the crowd and sprinting across a field, you probably don't want huge 3' long feet on him.

5. Who is going to wear him?
Will it be primarily teenage high school girls who weigh 95 lbs? If so, you probably don't want a huge dinosaur mascot that weighs more than they do. Also, if a different person will be wearing him each time- each with little or no training or practice beforehand- you'll want to avoid a building a mascot that's too large or with elaborate features like moving eyes or feather hair (nice special effects that take a little extra care, practice, and gentle handling by a regular, trained performer familiar with the costume).

6. How & where am I going to transport him?
Will you be primarily toting him locally around town (a soft case works fine) or shipping him all across the country? (you will need a hard case for this) What kind of vehicle do you have available to transport him- a huge van/truck (plenty of room) or a tiny SmartCar? (limited space) All of these things influence both his eventual size & the container he travels in.

7. Who will be primarily responsible for taking care of him?
Will it be a consistent, designated person who will get to know the costume and treat it gently & respectfully (and learn all the cleaning & care protocols) or will it be a different warehouse person each time who may just throw him on the floor? This can have an influence on the design of the mascot- either elaborate & detailed ( gets more attention but needs better care) or simple (needs minimal care).



8. Where will I be storing him when not in use?
Will you have a special store room where you can hang him up and let him air out (best scenario!) or will he stay sealed in a box when not in use? If you only have a small 2" by 2"closet available to store him, you probably don't want the largest mascot that money can buy. And will the room be indoors (temperature controlled- best option) or outdoors in a storage shed that bakes in the summer and freezes in the winter? (Not recommended).

9. How often will I be using him?
Will he be used 7 days a week, 365 days a year, as in a theme park? Or will you be using him only once or twice a month…or a year? These factors can affect which of our character styles you need.

10. Will I ever be wanting more than one?
If so, let us know before we begin production if possible and we will create special molds & templates right now for easier, faster, precise future replication.


Once you have decided on a mascot design that you like, we will, in most instances, prepare for you a
full color mascot rendering
(that will show you exactly what your mascot costume will look like when worn by a human being), along with a price quote (see the "Info & Pricing Section" of our website). Providing you with a mascot costume rendering is important because many clients already use mascot images as part of their organization's logo or graphics, but many of these are
"cartoon mascots"
(featuring very narrow pipe cleaner arms, necks & legs, gigantic feet, etc.) that are wonderful in 2 dimensions but have no basis in the 3 dimensional real world; remember that we must fit a person into your mascot and most real people cannot fit their arms, legs, and necks into 4" diameter spaces (!), nor can they run around in bird feet that are 6' long.
For an
illustration of this concept, check out the following examples, which are of the exact same character but rendered in different ways; first, as a cartoon drawing/logo graphic (2 dimensional), then as a mascot costume rendering (3 dimensional):

Cartoon Logo/Graphic
Mascot Costume Rendering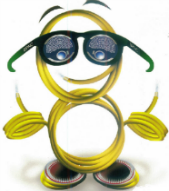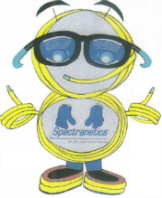 Cartoon Logo/Graphic
Mascot Costume Rendering
Completed Mascot

The mascot rendering, therefore, shows how your mascot design fits on the
"human form"
in a practical manner, puts us all on the same page, and is an excellent opportunity to make changes, tweaks, adjustments, etc. (take as much time as you need for revisions) Once you have approved the finalized rendering- and selected which of our three mascot styles best suits your needs and budget- we will review materials with you (sending you samples upon request) that will be used in constructing your mascot. Once you have approved the material samples, and our office has arranged the financials with you, your mascot is ready to move into the construction stage.
STEP 2- Mascot Construction Phase
The actual construction of your mascot takes place in three distinct sequential processes, each of which is explained for you below.
But before we get to that, you're probably wondering first and foremost, "How much time does it take for you to construct my mascot?" We're glad you asked that! On average, anywhere from 4-12 weeks, depending on many factors, including but not limited to so such variables as the complexity of your design, what materials we current have in stock that can be applied to your project, what special outside materials we must order for your project (and how quickly how suppliers can get them to us), and whether or not we've built the same mascot for you in the past (if so, we already have the patterns and templates available, which speeds things up).

Other factors involved in production time include the quantity of mascots we are building for you with this particular order, and occasionally (but very rarely) the random unexpected intervention of Mother Nature and/or Gremlins in the form of power outages, blizzards, fires, floods, earthquakes, machine/equipment breakdowns, and sometimes wild critters loose in the warehouse (and yes, believe it or not, our mascot shop has experienced all of these at one time or another during our nearly 40 years in business).


During the production phase, we will automatically send you a "progress report" halfway through to keep you up to date. We are always happy to send along progress photos for your inspection, too, should you request them, but keep in mind that mascots don't really "look like anything" until the final assembly phase, usually during the last week or so of production.


Here are descriptions of
the
three sequential construction processes
involved in building your mascot:
A. Patterning/Templating & Materials Inventory/Procurement
Here we pull all our stock patterns, templates, & molds that are applicable to your project (and design/create any new ones your mascot requires). We also pull & assemble in-stock fabrics & plastics to be used with your mascot, and place orders with our suppliers for any special materials and supplies required for your project.
B. Parts Fabrication
Once we have gathered/created all the patterns & assembled all the necessary materials, we proceed to fabricate the hundreds of detailed parts that, when assembled, will render your vision in 3 dimensional, kinetic form.
C. Parts Assembly & Fine Tuning
Once the parts are complete, like a giant jigsaw puzzle we assemble them all together and your mascot comes to life- a star is born! As soon as he's assembled, we then perform a "test flight" in our mascot shop, putting the costume on and fine tuning his many working parts. At this point we also complete his owner's manual & other necessary paperwork, as well as fit him with his carrying/shipping case, package him up, and he's ready to meet you.

STEP 3- Delivery, Adjustments, & Post Production Support
Once you receive your mascot (we prefer to delivery him in person whenever possible so that we can demonstrate him for you and answer your questions right away), you'll want to read all his accompanying paperwork first- especially his safety, operation, and cleaning information- and sign/complete/return to us any applicable warranty information, etc, that came with your mascot.
Next, carefully examine & become familiar with each individual part of him and how it relates to the others- all before using him in public for the first time. Along these same lines, you or your performers will want to practice "Suiting Up/Suiting Down" in the costume (putting the costume on & off) as well as moving around, going up and down stairs, etc., in a clean, dry, quiet, well lighted, and relaxed/non-rushed environment several times before making any public appearances (trying the costume on for the very first time outdoors, on the street, on a 100' day, five minutes before marching in a parade in front of 50,000 people is not recommended).

Your mascot is a custom "made to order" product; like all custom made products, he may (or may not) require special alterations and adjustments after you've worn him once or twice to better suit him to your needs. This is called "tweaking" and is a natural and expected process in the mascot world (think of mascot tweaking as tuning a fine piano). Just keep notes for us and well will make as many adjustments as you want- we are only happy when you are happy!

At The Kincaid Karacter Company, we're proud of the fact that we offer the best and most comprehensive post production mascot services in the industry

,

and we're anxious to prove it to you. We want you as a valued client for life, and we'll do whatever we need to do for you to create & maintain that relationship. We offer a wide variety of post-production programs- many of them free of charge- that, in the years to come, will not only help you always maintain your mascot in a safe, tip-top condition at all times, but will provide you with ever evolving new ideas, methods, and ways to get the most out of your mascot investment.


Be sure to register with us right way to receive updates on all these exciting developments

, and remember that we're always just a phone call or quick email away should you have questions or need help or advice with any aspect of your mascot or mascot program.